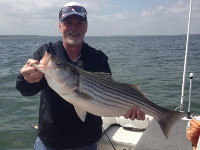 A guided striper fishing trip
on Lake Texoma will give you
the opportunity to land your
Trophy Lake Texoma Striper.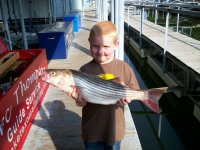 You're never too young to
enjoy a day striper fishing on
Lake Texoma.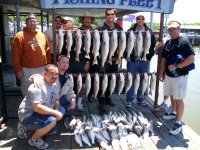 Groups Welcome.
Have a fun day on
Lake Texoma striper fishing
with a group of friends.

Charter a Professional
Striper Guide Service
for your trip to Lake Texoma.
The purpose of
Lake Texoma Striper Fishing
Guide Booking Service
is to assure you a quality,
safe and memorable fishing trip.
We are here to assist you in planning
your trip on the date you want.






Some frequently asked questions about finding a quality
Striper Fishing Guide on Lake Texoma.
Effective January 1, 2010, all fishing guides on Lake Texoma must have a merchant mariner credential issued by the United States Coast Guard and carry a minimum amount of liability insurance. This is required to ensure your safety. We ensuree that the guide you have chosen to fish with has the correct credentials required for taking customers on the lake..
Your guide will provide Rods and reels, live and artificial bait.


Your catch will be cleaned and bagged.


Morning trips usually start at daylight.


Afternoon trips usually start at 2pm.


The guide will fish you for 5 hours or until a limit is caught and will not rush you off the lake if you catch you limit quickly.


Catch and release is allowed under most circumstances.


Daily limits are 10 Stripers per person with only two 20" or longer.


You should bring:


Lake Texoma Fishing License, which can be purchased at most local stores and Marinas around Lake Texoma.
Ice chest, snacks, drinks, wet weather clothing and life preservers for small children.
For lunch you can bring your food and drinks or dine at one of our local restaurants.
Shore lunches of either fish or barbecue can be arranged for your group.
For more information please email us at
Lake Texoma Fishing Charters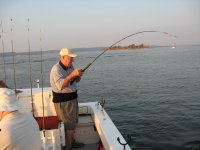 Your guide will make your
striper fishing trip on
Lake Texoma a day to remember.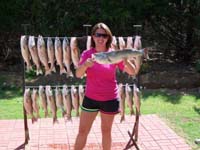 Family, Men, or Lady only trips
let you plan a trip to meet
the fun you want on Lake Texoma.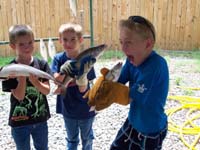 Groups Welcome.
Have a fun day on
Lake Texoma striper fishing
with a group of friends.